Two-week update-Aug 18 Ė Sept 2, 2002
We have been through a lot these past couple weeks.
We traveled to Utah for Cindyís Wedding (Janís sister). This was the week Mikeís UOP studentís started school, so it was a very busy week. The trip was great, however it was a little too quick. Our biggest regrets are that we didnít have enough time to see everybody that we wanted to.
We were fortunate that there were empty seats on the plane, which allowed us to take Jaceís car seat on the plane. Whew! What a difference the car seat made. He slept for 2 hours each way and allowed us to have a few catnaps ourselves.
We love Utah, and seeing all our family and friends, but we were glad to be home to our little apartment tucked away in the Virginia woods.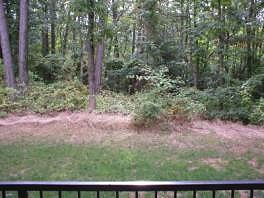 (This is our view of the woods from our front porch)
Once we flew back to Virginia, Mike came home feeling ill. He was complaining that his stomach hurt. We all thought it was GAS and didnít float much sympathy to Mike until Tuesday when he went to see a doctor and was immediately admitted into the ER in Reston, Virginia. He was suffering from appendicitis and ended up in surgery a few hours later. The surgery went well. Jace spent the night with Michelle and Travis Allen who are friends from Utah and Mikeís boss. Late Wednesday night Mike was released and has been home recovering and bugging Jan the rest of the week.
Mike had some additional swelling and bruising after being home a day, so the doctor recommended that he come in for a check-up on Friday morning. On our way to the Dr.ís Office, we were in a three-car pile up. Janís Nissan received a few dents in the rear bumper but luckily no one was hurt. Thank goodness for health and auto insurance.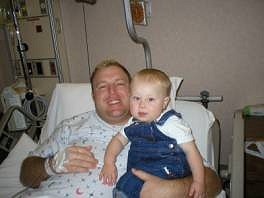 (Jace visiting dad in the Hospital)
I hope you all had a great Labor Day weekend. As for us we were recuperating from a busy two weeks and surgery. Which is a big contrast from our last Labor Day trip. When Mike and his friend Aaron ran w/ the sheep in Reedpoint, Montana. (Good Times!!)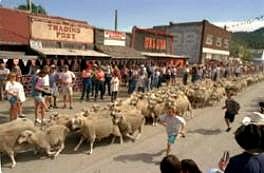 (Running w/ the sheep in Montana - Labor Day 2001)
Take care everybody and make sure you have Health and Auto insurance,
Mike, Jan & Jace
Back to Weekly Updates